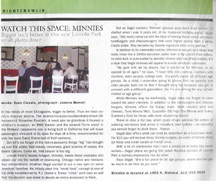 Watch This Space: Minnies
By Evan Clossin in UR Chicago - June 8, 2006
In the minds of most Chicagoans, bigger is better. Thus we have our city's massive skyline. The so-enormous-you-could-probably-drown-10-horses-in-it Showalter Fountain. A naval pier so grandiose it houses a children's museum, an IMAX theater and the slowest Ferris wheel in the Midwest .
But let's not forget al the not-so-awesome things "big" has brought us over the years: tidal waves, volcanoes, giant swarms of wasps, the Grand Canyon. Come on, that canyon is too big.
Lincoln Park's newest hotspot, Minnies, heeds these examples and shows our city the benefit of downsizing. Chicago native and restaurateur extraordinaire Jonathan Segal wanted to put a new spin on some American favorites. He initially plied this "small food" concept at one of his other establishments, P.J. Clarke's. These "minis" went over so well that the decision was made to devote an entire restaurant to them.
But as Segal explains, Minnies' genesis goes back even further. "It started when I was 4 years old, and my 4-year-old birthday party," Segal says. (My mom) came up with the idea of making these small, miniature hamburgers and cheeseburgers that were higher quality than a White Castle slider. They became my favorite signature item at my parties."
In addition to its namesake cuisine, Minnies is buoyed by a decor that looks more like a 1940s ice-cream parlor than a hip Lincoln Park eatery. Its retro look is punctuated by plentiful mirrors and lots of red leather. It's a style that Segal believes will appeal to a wide variety of customers.
"My goal with all my places, but in particular for Minnies, is (to appeal) to all ages," he says. "I have little kids coming, mothers with strollers, older people, college kids. It's pretty equal, all different age groups. As a child, I remember going to places that my parents and older people took me to that I thought were fun because you got to connect with a different generation. So I'm not aiming for any certain market or age group."
While Minnies may be kid-friendly, Segal does not forget to cater toward his adult clientele. In addition to the hamburgers and cheeseburgers, Minnies offers the Cuban (ham, fresh roasted pork and cheese), Tuna Minnie Melt, Cucumber Dill High Tea Minnie and Thanksgiving Delight for those with more discerning tastes.
There is also a full bar, which gives of-age patrons the option of ordering mini-beers that arrive in miniature beer bottles so adorable you almost forget to drink them. Almost.
Segal also offers what can best be described as a Euro-meal deal. For $13 you will receive three Minnie burgers, an order of Minnie frites (or fries) and a half carafe of French wine.
With a bit of continental flair—and a whole lot of really tiny sandwiches—Segal plans on giving the jaded Halsted corridor of Lincoln Park a culinary experience like no other.
Says Segal, "It's a fun place for all age groups, where you can get as much or as little as you want."