Where did the idea for Minnies come from?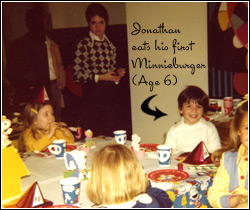 The idea behind Minnies originated in 1975 when Jonathan Segal's mother, Joy, prepared miniature sized cheeseburgers for him and his guests at his 6th birthday party. Jonathan wanted to eat an "adult" size cheeseburger but his mother thought these were too big for him and his guests. Jonny didn't want the burger to be split in half either. Using her super mom powers, Joy shrunk each burger and they were the hit of the party. These minnieburgers were the signature item at Jonathan's birthdays the following four years.
Fourteen years later, Jonathan introduced the Minnie cheeseburgers to the Chicago's P.J. Clarke's restaurant menu. Since then, the Minnieburgers have been the signature item at both P.J. Clarke's restaurants, Le Passage, and at the United Center. Jonathan's vision for Minnies occurred in 1997 when he thought the time was right for a quick chic casual food and drink concept centered on the successful minnieburgers. He simply thought it be fun and more desirable to enjoy favorite sandwiches in smaller portions and with more variety. From his extensive traveling overseas, Jonathan learned to appreciate good cheap table wine with the many sandwiches he experienced at the cafes and salons. His travels convinced him of a missing element in the American fast food culture: quality and variety. Through years of preparation, the words "minnie", "minnies", "minnieburger", "skinny minnies", "minnie freeze" and other minnies lexicon are now United States Trademarks.
Is Minnies a franchise?
We are not currently offering franchises of this concept, but from time to time there may be investment opportunities for accredited investors. We'd be interested in having you fill out our franchise information form and we will be sure to contact you if we decide to franchise in the future.
Do you offer gift cards?
Yes. Please contact us for more information.
How can I submit a donation or sponsorship request?
We require all requests to be submitted in writing.
Can I re-heat Minnies in my microwave?
Yes, Minnies work great for zapping. If taken from your refrigerator, pop in your Minnies for 20 to 40 seconds depending on your microwave. If they are at room temperature, pop in your Minnies for 10 to 20 seconds depending on your microwave.
Did I notice Minnies at the United Center?
Yes. Minnies have been served at the United Center since 2003 for all Chicago Bulls, Chicago Blackhawks, and all other concerts and events.