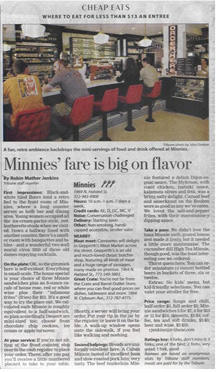 Minnies' fare is big on flavor
By Robin Mather Jenkins in The Chicago Tribune - July 20, 2006
First impressions: Black-and-white tiled floors lend a retro fell to the front rom of Minnies, where a long counter serves as both bar and dining area. Young women occupied all the ice-cream-parlor-style, red-leatherette stools when we visited. Down a hallway lined with another counter, there's a smaller room with banquettes and tables—and a wonderful two-wall mural circa 1950 of three old dames enjoying cocktails.
On the plate: OK, so the gimmick here is self-evident: Everything is small-scale. The house special is your choice of three Minnie sandwiches plus an 8-ounce carafe of house rose, red or white wine plus their "infamous frites" (fries) for $13. It's a good way to try the place out. We calculated each Minnie is roughly equivalent to a half-sandwich, so plan accordingly. Desserts are mini-sized too: choose from chocolate chip cookids, ice cream or apple turnover.
At your service: If you're not sitting at the front counter, step over to the cash register to place your order. There, after you pay, you'll receive a little numbered placard to take to your table. Shortly, a server will bring your order. Put your tip in the jar by the register, or leave it on the table. A walk-up window opens onto the sidewalk, if you feel like walking and noshing.
Second helpings: Breads are uniformly excellent here. A Cuban Minnie tasted of excellent ham and slow-roasted pork loin; very tasty. The beef tenderloin Minnie featured a delish Dijon-cognac sauce. The Mykonos, with roast chicken, tzatziki sauce, kalamata olives and feta was a briny, salty delight. Corned beef and sauerkraut on the Reuben were as good as any we've eaten. We loved the salt-and-pepper frites, with their mayonnaise-y dipping sauce.
Rating: 3 Forks - one of the best.