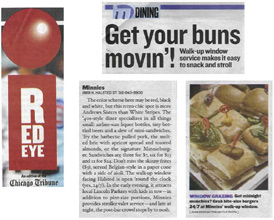 Get your buns movin'!
From Red Eye - July 19, 2006
The color scheme here may be red, black and white, but this retro-chic spot is more Andrews Sisters than White Stripes. The '40s-style diner specializes in all things small: airline-size liquor bottles, tiny bottled beers and a slew of mini-sandwiches. Try the barbecue pulled pork, the melted brie with apricot spread and toasted almonds, or the signature Minnieburger. Sandwiches are three for $7, six for $13 and 12 for $24. Don't miss the skinny frites ($3), served Belgian-style in a paper cone with a aide of aioli. The walk-up window facing Halsted is open 'round the clock (yes, 24/7!). In the early evening, it attracts local Lincoln Parkers with kids in tow—in addition to pint-size portions, Minnies provides stroller valet service—and late at night, the post-bar crowd stops by to nosh.