Who's talking behind your back?
By Steve Hendershot - Crain's Chicago Business - January 15, 2007
Everybody's talking about Minnies restaurant. Sure, the food's good. But it's the tiny sandwiches that get the Lincoln Park restaurant in the news; the stroller parking that spreads the word among families, and the free piggy banks for kids that have Andy Sernovitz gushing.
For Mr. Sernovitz, Minnies is more than a great lunch spot, it's a case in point. As CEO of the Word of Mouth Marketing Assn. (Womma) in Chicago, Mr. Sernovitz studies, cultivates and celebrates buzz—the holy grail of marketing that has consumers telling each another about your company.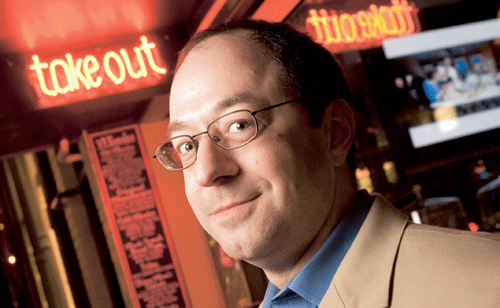 Andy Sernovitz, CEO of the Word of Mouth Marketing Assn. in Chicago. Photo: Stephen J. Serio
"Advertising is the cost of being boring," says Mr. Sernovitz, shaking his head in sad amazement at the poor, messageless companies forced to resort to traditional marketing. Word-of-mouth marketing, after all, is as simple and powerful as a good conversation. First you figure out who you want to talk about you, then you give them something to talk about.
"Often it's frosting, not cake—like when everybody was talking about the Apple iMacs because they were purple," he says.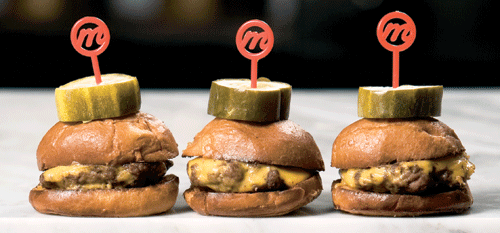 These tiny burgers are big in Chicago thanks to good gossip. Photo: Stephen J. Serio
Founded in 2004, Womma has grown to include 350 members, from Chicago public relations firm Edelman to companies like American Express Co., Best Buy Co. and Fidelity Investments. Its purpose is to standardize the practice of starting and sustaining buzz, including crafting guidelines like an ethics code that forbids planting fake "consumer" reviews.
"We try to find advocates—customers who have lots of experience with a product who can tell you how and why something works," says Steve Hershberger, a principal in the Chicago marketing firm ComBlu and a WOMMA member. "We go to them and say, 'We need your help in getting the word out.' Then we'll give them something to start them talking, like an early product design or some insider information. We want them to take the story of their experience with the brand and re-tell it as they go through their life," whether they have a formal audience through a blog or just spread the word to their acquaintances.
Among Mr. Hershberger's favorite word-of-mouth campaigns is one he developed for Wild Birds Unlimited, a Carmel, Ind.-based birdseed and feeder retailer. In 2005, the company identified about 5,000 of its best "talkers" by searching its records for repeat customers. WBU invited them to participate in a study of birds' migratory patterns, complete with in-store educational events. The company used the study results to develop new products and the buzz generated helped boost sales by 25%.